Followings are the major modules of Tendering system on SugarMart. Officers of Sugar Factory shall be provided with a detailed training by our expert team. The training can be repeated anytime using online learning as per convenience of Sugar Factory officers.
Item Master
We have ready list of over 8000 items that are required by a Sugar Factory. The registered sugar factory will get access to these items and if required, sugar factory representative can contact SugarMart call center and request for addition new items as per their requirements. The items will be added only after verification of its uniqueness.
Once the required items added in the item master, factory officers can start processing a tender. Following figure show the steps in processing of a tender :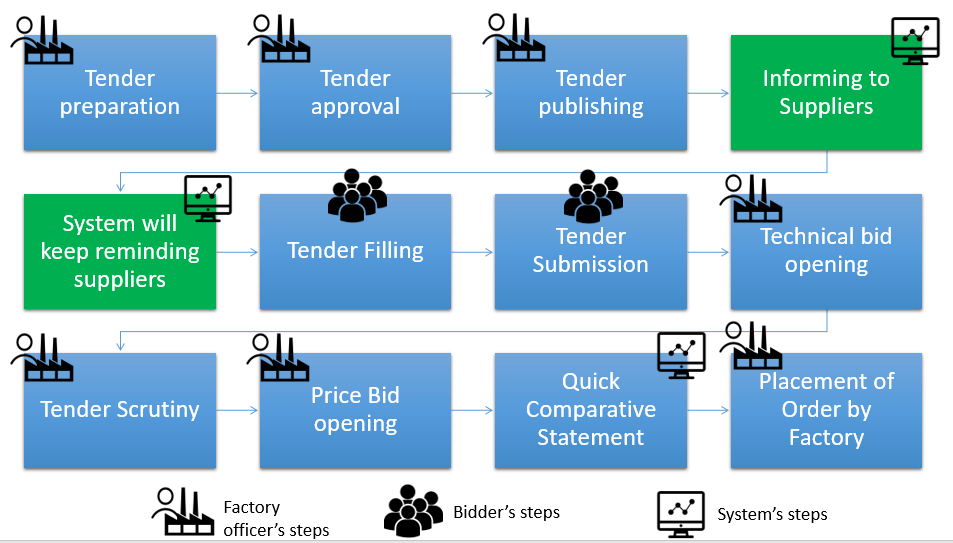 Factory officer's steps means factory officers will prepare, approve, publish, open technical bids, does the scrutiny, opens the price bids and place the order on the L1 bidder.
Bidder's steps mean bidders will perform the steps like online tender filling, online submission, participation in tender openings and downloading comparative statement of the tender.
System's steps mean system will generate the comparative
The blue coloured boxes shows the name of the online modules available on SugarMart. "Placement of Order" can be done manually or using the online module available on SugarMart. The green coloured boxes show the automated alerts will be sent to concerned Suppliers by SMS, email, and WhatsApp messages. SugarMart call center executives will also keep informing concerned suppliers and guide them to submit the tender and see that maximum suppliers will submit their bids.